Irony of the system:
Reasons are yet anonymous behind why a system of democratic philosophy and decentralized functioning in its core belief like Khap was never documented. Except few exceptions like late Dada Chaudhary Kabul Singh Balyan Ji

(who preserved the Sarv-Khap history in forms of documents like tamrpatra (copper plates), scriptures, coins, letters of gratitude and credibility, letters of calls for help shouted by various rulers, various negotiation papers)

, no other historian/author before him is known so affluent about preservation and documentation of this system. Though in later times many good works by many historians came into light but his work is yet the best known in this regard. Whatever have been the reasons behind this irony and one may not like to take it seriously but at the end, Sarv-Khap stands in equivalency to

constitution of England

which is also an unwritten stratum in world like Khaps till date. Why it is so that being of unwritten commonality, one is highly acclaimed worldwide

(even among Indians)

; whereas the other has faced endless annoyance and biased criticism in own nation? Another point here to research can be why Britishers

(who proved decisive behind rooting out many social evils like "Sati Pratha" prevailed in eastern, central and central western parts of India)

didn't nail Khaps; not even during the period of 1857 to 1947

(except

Late Chaudhary Dada Kabul Singh Balyan Ji (1899-1991)
Khaps armed revolutionary activities against them)
and allowed their ground functioning. Historical Sarv-Khap Mahapanchayats like one held at Brona of Sonepat, Haryana in 1911 is evident to it.
Had not been the Khaps bad (social evil), wouldn't the Britishers have rooted out them like social evil, one mentioned above?
So it shows that Britishers would have also found some minimum good in this system.
An ancient-most system of its kind (in an analogical perspective):
Might it be due to the fact that SarvKhap system is purely originated from the farming communities of Haryana (Khapland) otherwise has it been "Paris Commune" of 1789 or "Some short-lived social movements found in West Bengal during late 19
th
and early 20
th
centuries", this (Khap) 7
th
century old system would also have garnered the public appraisal and applauding equivalently! Though I am not certain while putting these three systems in analogy but one thing in commonality of all has been the social participation and uplift. And if to see performance-wise Khap has proved a horse of long race which still prevails and it is since when his highness
Maharaja Harshvardhan Singh Bains
conferred official recognition on it in 643 CE.
Though on economical basis lands of Paris Commune are much more prosperous, so won't be able to put a sure-shot analogy for three. But for the Indian two yes! it is found that wherever the Khap system was or is effective that region enjoys the least gap between rich and poor whereas on contrary this gap perhaps is among the widest in West Bengal lands on economic grounds.
Impression of Khap ideology behind "Mohalla Sabhas" of Aam Aadmi Party of India:
After reading and knowing the Sarv-Khap legend, reader would have one more option to guess from where the concept of "Mohalla Sabha" of "AAP" would have come. The two major think-tanks of this party (Arvind Kejriwal and Yogendra Yadav) hails from Haryana (Home to Khap-system) and must have seen or heard of working of this system in this or that way; though no claim about from where exactly they got this idea but a one to one similarity is there between the two. On the same time I am afraid that where on one side Khaps are claimed unconstitutional body (which in fact every religious and social body of nation may) then how "AAP" would make their concept of "Mohalla Sabha" working constitutionally?
In all fairness:
While describing the principles, functioning, hierarchy, and other all around aspects of this system, I would like to retain a neutral stand on both positivities and negativities of Khap and Sarv-Khap system.

The sole attention of writing would be given on understanding what exactly the functioning legend of this system has been and how realistic, practical and fair it could be if implemented in its purest form.

Though multiple arguments, for or against Khaps have come to notice in media by seemingly democratic alliances (in forms of some NGOs and even political satirists) in addition to prejudicial stance of certain media houses about Khaps and happenings in Khapland, but none came out with appreciable reviews about true sovereign and ideological status and functioning of Khaps.

Historic Emblem of Sarvkhap

The soul of Sarv-Khap system is like the tree of sandalwood, whose frigidity can never fragile even after clinging of hundreds of snakes to its stem.
So if implemented or whenever implemented in its purest spirit, this system is/was capable of yielding the best environment of democratic peace, prosperity and equality. Reading its history would help one to pin it in top list for system with best representation and participation from all castes, creeds and genders index especially for its ancient times until 1857. An article showing such representation
can be read from this link
. Thanks to huge criticism from media and intellectual lobby that system seems reviving itself with increased participation from both genders
(especially the females which due to the colonial reasons was going disappeared until last decades of 20th century)
. Re-formation of
'All India Mahila Sarv-Khap Women Cell'
with beginning of 21
st
century is evident to it.
Root character of this system:
The gene of land of Haryana is forward reciprocative in nature and accepts the criticism with huge heart and open arms, and rarely reacts on quick response. It reacts only when the wave of issue or urgency is felt across the land unanimously. Character comes out of this gene says that such systems are found uninspired on reactions/remarks or criticism made in haste. So one need to be very categorical while yielding anything on this system and expecting quick return.
Aim of the article:
Understanding the ideology, functioning and philosophical formula of Sarv-Khap and how the legacy sprouts and grows in this system.
Core ideology/principle of Khap system:
Core principles:

It is an ancient democratic system of ideology that underlines

"By public - of public - for public"

means a basic tenet of the philosophy "Lokraj Loklaj se chalta hai". Though no claim but this idea somehow reflected in philosophy of Tau of nation Ex. Deputy P.M. Late. Chaudhary Devilal Ji when he adhered the similar slogan as "Lokraj loklaj se chalta hai".



Source of Law:

The public convention is/has been the prime source of its functioning, decision and/or opinion making. Theories and philosophies of local and logical religious beliefs work as secondary source to system.

A proper reviewing system has been in place on Khap level to redefine or modify internal to Gotra or regional norms. For example "Gathwala Khap" relieved its community from compulsion of leaving the Gotra of 'Grand-mother from father side' for marriage of her grand-children if she is dead. New resolution says that Grand-mother's gotra can be considered for marriage of her grand-children if is she is dead. Similarly a decade ago same Khap relieved its community from Gotra of Grand-mother from mother side.

And it all was done in purview of public convention.




Functioning of system:

The Khap as a socially eminent body would function on a particular time and place in full public view so that transparency is attained in proceedings. The names of Panches (which usually are different for each panchayat) would be nominated and announced on spot just ahead of the start of meeting of the Khap Panchayat. It helps in avoiding any kind of direct or indirect threat, influence or approach, from either the accused or the respondent(s) to influence the process of decision making and the Panches engaged on task. Whether the outcome or verdict relates to

issuing guidelines, setting up of norms for public conduct or grievances,

the manner of conducting the proceedings follows this uniform pattern.



Public trust is all what makes a Panch:

There are two types of trusts prevail in Khap system. First, trust towards the family of Headman of same gorta Khap, which is showered as honor to historical deeds made by that family for their clan and if family generations continue on such deeds theirs become an imperial status. Headman usually sets norms for social customs and rituals on consensual nods of its descendents, which has observed by the Headman as a characteristic change evolving in public behavior, in an empirical manner.

Second type of trust comes from individual's own character and zeal for doing something better for the society as a whole with an impartial approach of social belief. This is an open door entry for new entrants to privileged lobby of the system.

Anybody from any caste/creed can equally flourish and fulfill their ambition of becoming social activist under this system.

One who wishes to serve the society with true spirit of socialism gets the blessings of system automatically. Many examples of such new entrants can be enlisted from recent years itself.



How the legacy flourishes:

Along with the story began from individual as explained above if for two to four generations one of your family member consistently contributes in this domain of public service and earns some laurel and pride to society with his/her deeds; a legacy of respect and honor sprouts and goes on growing in imperial manner for him/her and their family. But this imperialism flourishes until the family continues on for what they were bestowed with this honor from public. So it is not something just by birth but by worth also.

Coming back to what makes a Panch, it is the impartial justice delivery and clean character what leads you the ladder towards upward promotion in this system. And derailing from this spirit may demote you to bottom in one second. Public holds right to drop any person from decision body (i.e. panch council); deliberately to say that any publically objected person can't find place in decision body. Needlessly to say that persons chosen to such body should have proper knowledge and experience of the field from which the matter/issue is coming for hearing.



Right to individual to challenge the verdict:

Decision of panch-council can be challenged by anyone from public, thereafter a review becomes pertinent and should properly be entertained, without it verdict can't pass.



Philosophy of economic and time bounded justice delivery:

In royal beliefs of a Khap Panchayat, it says that once sit panchayat on resolving of a matter, it ends up with result. If the decision faces challenge from anyone in public, panchayat shall sit again on spot with a time window of generally two to three days to review the whole matter again and if necessary it would review the matter from scrap.

If a case (which may be seen complicated from beginning by Panches themselves or through objection reported by individual from public) couldn't resolve through 2-3 days continuous sittings then panchayat would fix a future date for its rehearing. But the percentage of such cases seen lower than even 1% in total Khap and Sarv-Khap history.

When it comes to economic matters of organizing or managing a panchayat, it has always been volunteer based. No consultation fee, no fair or travelling expenses to be paid to Panches called/invited from distant. A panchayat of one day would end up with a casual break-fast organized by host village And if panchayat extends to 2-3 days then responsible people from host village have to ensure the proper night stay and food arrangements for panches from distant villages.

This kind of economic management usually happens at "Tap" or above this level panchayats.




Social Security Force (SSF) for public safety:

Though it has now become redundant as the police and army of the Republic of India take care for internal as well as external threats to the nation as a whole thus tradition of maintaining Khap armies has gone outdated. But in ancient times (even until late 90's of 20th century) its relevance and effectiveness was necessitated due to invasions both from across the western border of India and also from within by the then foreign rulers of India or during repressive measures coercing communal liberty of natives or to protect village property from dacoits, who used to attack the villages in form of "Dhaads". Dhaads were the groups of local bandits who used to do "guerilla attacks" on villages.

So SSF were kept to intact the internal as well as external to village, district, state or nation security. Each village was free to maintain own semi-soldiers unit (Pahalwani Dasta). These dastas could be called by Sarv-Khap anytime to form huge Khap Army to save guard common public interests on large scale in pre 1857 CE era. A full training package used to be in place for converting a semi-soldier into a standard soldier at Khap Army level. An in detailed list of Khap Army's such deeds can be read from here.
Legend indicating the Hierarchical set up of Sarv-Jatiya Sarv-Khap: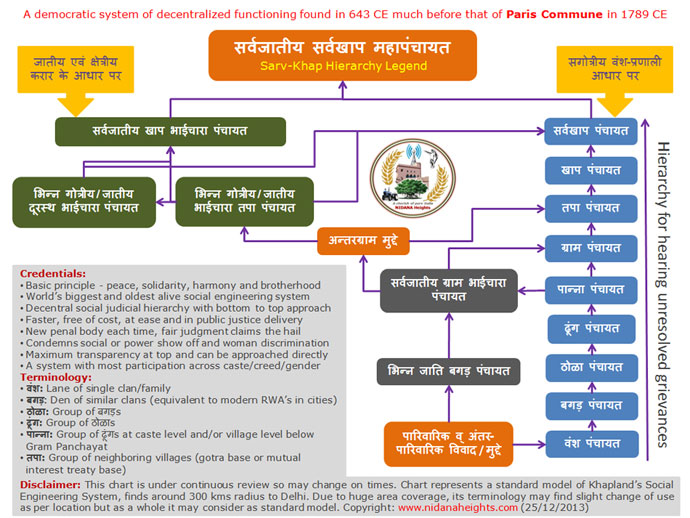 Understanding the hierarchy through the Legend:
This legend will help you in understanding how systematically the social system of Khapland
(present Haryana, Western U.P., Delhi, Northern Rajsthan, Uttrakhand and adjacent parts of M.P.)
has been ever before its official recognition in 643 CE. Please don't forget to read the "Credentials" and "Terminology" sections of the chart; it shall help you to know the system from in-depth. To further understand the legend, we will pick the tip of the system into two segments and then dip down until the common individual/family sitting at the bottom of system. The two segments through which the legend would be understood are "Jatiy evm Kshetriy karar ke adhaar par"
(Common Community Panchayats)
and "Samgotra vansh-pranali adhaar par"
(Inheritance Group Panchayats)
.
These segments basically run over the idea of genetic similarity
(Kinship and Headmanship in a family locally called as 'Parvar')
but both may work interactively too by entering each-others domain which further depends on nature of case and the mutual choice of both parties. But an arbitrary line can be drawn between the two, like most of similar genetic matters, interests and grievances usually refer to segment "Samgotra vansh-pranali adhaar" except cases of inter-caste marriages.
And any individual can take its grievance to any level up higher in model hierarchy condition to providing reason for surpassing the lower level,
for example if I don't feel secure in taking my grievance to "Gram Panchayat", I am rightfully autonomous to call the "Tapa Panchayat" or even above to resolve my grievance.
To help understand the Legend in precise way the case of Nidana village in Jind district of Haryana would be cited and best examples will be provided for wherever possible.
Inheritance Group Panchayats:
This segment of legend is based on genetic pedigree.
Individual/Family (Parvar):
The individual or family or Parvar across caste/creed/gender is the lowest unit of ladder in this system. This is the smallest gradient for all kind of public opinions, issues and disputes. There can be two types of disputes at this level, first with in family and second between two families. Usually the dispute resolved at family level by participation of all elders
(it may be males or females depending on situation of family and who governs its)
. These elders are called as
'Karta'
locally. Unresolved disputes of this level ought to go up in hierarchy of Inheritance Group Panchyats. In this line they may reach to Vansh or Bagad panchayt or even above.
In case of two families, it may take to same line of Inheritance Group Panchayats if both families belong to same Vansh/Bagad etc. or to Common Community Panchayat line if disputed families belong to different castes or creeds.
Nature of issues that are generally taken up at this level Panchayats:
Matters related to Land (ownership, irrigation, profit or yield sharing), built property, cattle and material articles, material wealth and cash or money, human abuse or mishandling, violence and injury, matrimonial alliance and human rights violations etc. In addition
wages, casteist remarks, social abuse, threats, defamation etc
by an individual or one family against the other etc.
Extent and degree of intervention by Panches at the level of Vansh, Bagad, Thola and Community:
If and when the prestige of a family is threatened of publically renounced and unacceptable to majority of members of the Parvar disturbance or has caused to disturb the peace and harmony of Vansh, Bagad or Thola, then that any natural panchayat member of these establishments has the moral right to interrupt and taking the issue through common initiative before the Panches for a solution.
Vansh Panchayat:
The kinship hierarchy works and remains effective in practice up to 3 to 4 generations upwards in the clan chiefly constituted of experienced elders from both genders.
Nature of issues heard and interests taken care in this level Panchayats:
In addition to hearing down the line individual cum family grievances, they also take care of upward to line independent sovereignty of their vansh, its relations with other Bagad and Tholas.
Bagad Panchayat:
Bagad means an enclosure akin to protected dwelling in which several families from different vanshes live together just like the modern day
Residential Welfare Associations (RWA)
in cities. The layout plan of a Bagad were alike fortresses with only one main entry gate closed from all sides except the mouth of one the single street. 20 to 40-50 families used live in one Bagad. Central part or a 'Chaugan' used to be left open for children to play or for unloading of carts at harvesting season. Elders from both genders of Bagad used to serve as guardians. They used to sit at the main entry gate of the Bagad so that no thief, stranger or even hawker could enter the mansion without noticing and subjected to enquiry if needed. This was how a secure and peaceful co-living was ensured.
Example:
There was been a Bagad in Nidana village, where different vanshes of Bhajjan, Mukundies, Gadge, Gardhyale and Munshies used to live together in one Bagad. Examples of other Bagads in Nidana are/were Chetu, Khaaddu, Thakuriye, Khattad, Bhanta, Kokobagdi and Harjash etc among different castes.
Nature of issues heard and interests taken care in these establishments:
The main purpose of such fencing was to ensure a protected and fear free space for children to grow and play, prone to access of wild animals, non-pets and thieves. Main function of such Panchayats/Guardians have been preparing and implementing security and liberty measures within Bagad in exactly the similar way as of modern day RWAs do in cities.
Thola Panchayats:
Thola interests extend up to 7 to 10 generations up in the clan. Name of each Thola is found on the name of common forefather
(referred as DADA)
some 7 to 10 generations ago.
Example:
In Nidana main Tholas among Jat community are Ghardhyaale, Baaloo, Bhajjan, Thakuriye, Banwaari, Girdhaari-Kalla, Keedu, Gadge, Khaldiye, Jhurri, Sudhan, Fatte, Bhaide, Faaddu, Munshies, Jugle, Ramma, Kundan, Sultana, Gyaani etc.
A complete pedigree of Ghardhyala Thola can be read from this link
It shall traverse you through Thola to Vansh, Vansh to Family and Family to Individual.
Nature of issues heard and interests taken care in these establishments:
To take care of sanitary, sewage, water and all kind basic infra immunities for Thola and making and maintaining dialogues with other Tholas and village as a whole.
Dhoong Panchayats:
Dhoong interests mainly extend up to 20 to 25 generations in the clan. Dhoong is subset of Paanna and found across all castes and creed in a village in Khapland. The size of a Dhoong is usually 80 to 100 families and around 400 to 500 eligible vote's rear-ward in the lineage.
Example:
Tholas clans of Ghardhayala, Baalu, Gadge, Bhajan, Dharma, Udami, Juglal and Lallas meet at one forefather named "Dada Raahtash Ji" thus it is known as "Raahtash Dhoong" of village. Similaly there are other Dhoongs in village.
Nature of issues heard and interests taken care in these establishments:
Political ambition begins from a Dhoong.
Dhoong is the level from where political groupings usually begin in villages. As each Dhoong consists of around 400 to 500 votes so carries the caliber of altering the mood of panchayat election or any other opinion making in village. It has been a tradition in Khapland villages that if any person (he/she) willing to contest elections of Sarpanch or Panch, and gets the consensual node of own Dhoong then it means he/she will not only get the full votes his/her Dhoong tied in one knot; even the Dhoong shall campaign for him/her. So these kinds of Panchayats work as a launching pad to your ambitions of becoming a public representative. A person with good behavior, character and deeds usually gets such consensual support.
Paanna Panchayats:
Paanna is made of more than two Dhoongs and known by the name of their very first or publically renowned ancestor. A village with average population would consist of 2 to 5 Paannas. It is heard that Paannas are found inter-caste too but point still to research further. In broader view a Paanna may be an inheritance community group or group of multiple castes favoring each other on mutual interest bases.
Example:
In Nidana there are two major pannas of Jat tribe known as Sanjhran and Bhanta. Sanjhran Paanna is made up of two major Dhoongs named "Raahtash and "Malwa".
Nature of issues heard and interests taken care in these establishments:
These are above the Dhoong, bigger bastions of political bargaining in Haryana villages. They ensure protection, share and contribution of and for each other in all common to village matters. A usual cold war kind of competition in almost every matter like politics, resources, and policy making for village is usually found at this level. And here comes the major job for Paanna Panchayats to keep these kinds of cold clashes to zero and maintain the village unity in good spirit of peace and unison.
Gram Panchayats:
The gram pachayat going to be discussed here is the social panchayat totally different than the constitutional panchayat. Social gram panchayat meets only for specific causes and occasions mostly common to village interests.
It can more clearly be understood by looking at the newly
(may be for urban but for rural it is a centuries old formula)
introduced/brought concept of "Mohlla Sabha" by Aam Admi Party in New Delhi.
Yes the role AAP party seeks for the people to play through "Mohlla Sabhas" in Delhi; it has already been in practice in villages of Khapland in form of these Gram Panchayats. Constitutionally elected Panches and Sarpanch may also be called in these panchayats if any issue related to their intervention comes into light.
Example:
I recall a case from my village. A farmer was farming on 1.5 acre land of a Dalit on occasion for decades, but one day one member from the land owner family put the land on occasion to another farmer from another Paanna without any prior notice to either of the traditional farmer or his own family. And as per norms of agriculture profession, it is necessary to issue notice to or close the deal with existing plougher of your land before changing it. Thus it converted into a clash of interest between the two peasants. This grabbed the attention of whole village and a gram panchayat was called on immediate call, gram panchayat because the matter was engulfed between different paannas plus different castes. Both peasants and Dalit, all three parties were called in panchayat and there became the things clear that it was a mischief of the member of Dalit family, who occasioned the land to new peasant without prior notice to existing plougher and even acted as the sole doer in front of new plougher. Then panchayat declared the mischievous guy as defaulter and alarmed the villagers not to enter in any financial affair with him in future. Then the Dalit family took the moral responsibility for bad act of their member and came forward to return the money taken from new peasant by him. And in this way the land was retained with the traditional plougher.
Nature of issues heard and interests taken care in these establishments:
Disputes like one explained above. This panchayat also takes internest in human welfare activities in village.
Tapa Panchayats and Bhinn Gotriya/Jatiya Bhaichara Tapa Panchayats:
"Tapa" stands for nostalgia philosophy, i.e. with whom you are compatible in maximum matters of mutual interest external to village. The base of these panchayats is either "Blood Lanes"or "Common Interest". Here we are addressed with the both of Tapa Panchayats (Inheritance Group Panchayat) and Bhinn Gotriya/Jatiya Bhaichara Tapa Panchayats (Common Community Panchayat). We are discussing both at one place given to reason that they are found identical to each other on maximum matters except genetic bonding. A village may have both types of "Tapa" mentioned above in first paragraph of this section.
Fatwa/Ban kind of things:
Though no such term exist in Khap Hierarchy model and it is purely an imaginative tag imposed on them but even then some readers from modern media and some NGO's lobby might be interested in hearing on this. To be fair with the point, there are two three things to note here. First if any than most of such decisions are taken at village level panchayats (a level below this panchayat) and are implicative for a particular village only. Second if "Tapa" or "Khap" issues any such guideline
(as mentioned in section 'in all fairness' that it is the land of forward reciprocative attitude thus public is never obliged to follow it except if it comes on security measures of society as had been during pre-independence periods)
then it is always gender neutral or at least not of the measure to paint it with color of Fatwa. Third thing if guideline is from "Tapa" or "Khap" then it won't be for a single or two villages rather for all villages coming under their influence.
Fourth thing they issue these guidelines keeping the overall things in view, mainly from what is best for a healthy agriculture business society; the angle perhaps was never addressed or seen from any media or intellect.
So panchayats like "Tapa" or above in hierarchy hardly decree any biased guidelines. Even then if anyone found guilty of impartial approach on gender basis that is condemnable at all levels and media please drag that particular body and not the whole system for that one fraction of it.
What is Chitthi Paadna?:
It is a standard and royal procedure for calling a "Tapa" or above "Tapa" level panchayat. Traumatized village sends a call on letter-pad to other brethren villages falling under its "Tapa" with reason and schedule of the meeting. These days electronic means of communication have entered in this domain too. Any panchayat called without following this procedure, never falls under philosophy of "Sarvkhap" lagend and should be taken as a self-styled gathering only.
Formats of Tapa Panchayats:
An example of Blood Lane on smallest level (though it is not called as Tapa but can be seen as the smallest possible form of it) is the group of three villages i.e. Nidana, Lalit Kheda and Nidani. Reason of this grouping is common inheritance roots and border sharing to each other.


The real "Tapa" on the basis of Blood Lane usually refers to group of same gotra neighboring villages falling under a particular Assembly Constituency or at Tehseel level. Like for Nidana it is the group of Nidana, Nidani, Lalit Kheda, Shamlo, Gatauli, Ramkali villages.

Example:

Almost two and half decades ago a

Jhota Flying Unit

(which remained active for a measurable time) was formed at HQ of Tapa at Shamlo village to nail the superstitious activities spread by fake satsangies and sadhus in fellow villages. It was so famous during those days that fake satsangies and saadhu used to think twice before coming to these villages.


Bhinn Gotriya/Jatiya Bhaichara Tapa Panchayat (Common Interest Bhaichara base): usually consists of 9 to 12 villages oftenly called as

"Naugama" or "Baraha"

respectively. The baraha to which Nidana belongs have Nidana, Nidani, Lalit Kheda, Shamlo, Gatauli, Ramkali, Chudali, Padana, Dhigana, Bhairon Kheda, Khema Khedi and Ludana villages.


In historical prospect "Lajwana" was the Tapa for Nidana.
Example (a case of Bhinn Gotriya/Jatiya Bhaichara Tapa Panchayat):
On the eve of Dusshera of 2000, some miscreants from bordering village Chabri took the public animal (Gaam wala Jhota) to their village,
(which normally that animal would never cross the border of his village with own will at all, this sense of recognizing the borders of their village is amazing and found in each of them)
. There happened the incident of harassing this public animal of Nidana village by them. The Jhota was harassed so mercilessly in a closed compound that it was almost dead and thrown into the drain flowing next to firni
(outer circle of habitant)
of Chabri village. And as Sarkari Jhotas and Saands are considered equivalent to sacred deity in a culture like Haryana so the whole Nidana village got infuriated on hearing it. Even the traditional "Pahalwani Dasta" communities of village were so furious that they were ready to attack the guilty village at any cost. The matter reached to district administration and a unit of police force was deployed on spot. But then the panchayaties of village handled the matter for that night by calming down them saying that a misdeed of 10-20 persons can't cost the whole village so they wait until morning. But the youth was in no mood of waiting and went to passing by state highway and jammed it with first ray of sun. Then seeing the anger of village personnels (especially the youths) and requests from District administration too, a Tapa panchayat was called from both sides and matter was resolved with mutual course of discussions. I remember the minute to minute proceedings of that meeting as was present personally. How the matter was resolved that would require another 1000 words or so to explain in details but for the moment it should be enough that the matter was resolved through "Tapa Panchayat.
Nature of issues heard and interests taken care in these establishments:
Though depending on type and severity of dispute any individual can call them through "Chitthi Paadna" mechanism but they mainly come into picture when their arrives a threat to sovereignty, prestige, public property like public animals (Gaam wala Jhota/Khagad), bordering land issues between two villages etc.
Khap Panchayat:
This is where the real beauty of democratic philosophy of Khap system shines with full charm, meaning to fact that it is the total sum up of all same gotra fellows and fellow villages falling under one surname in one particular caste.
Example:
For Malik gotra Jats of Nidana it is "Gathwala Khap"
(the largest and historically among one of very proud and mighty Khap of India)
they are socially affiliated to.
Nature of issues heard in this level Panchayats and its historical significance cum viability in current era (examples included):
Settling down the inter-villages high risk (which could become a danger to existence and brotherhood of village) social disputes of its descend.


Seen as third prime most body in overall hierarchy and topmost in same gotra hierarchy. People seek their quality justice especially against unjustifiable vices of traditions like dowry, unwanted money power use, discrimination against women etc.


Khap leads and motivate its people to abstain from unnecessary show off during marriage ceremonies, Mrityu Bhoj (Kaaj), access use of alcohol etc. Even dictates its people to abstain from such social evils.


It promotes events and investments from which social unison and welfare could be benefitted.


Works on matters like marriage, customs and social values.

For example

Gathwala Khap of Malik Gotra recently relieved the fellow community from compulsion of leaving the Gotra of Grandmother. Panchayats issued that if Grandmother is not alive then her gotra can be considered for the marriage of her grand-children.


Whenever in past or even present day they still hold the network for developing a

Social Security Force

. These forces were more common pre-independence of India. The smallest unit of these forces used to be "Dasta" at each village level. Nidana village used to have its share in it, which constituted of trained semi-soldiers with marshal art and war tactics. They were semi-soldiers because they had to do the soldier duty on call of Khap in specific or in special situations of own village otherwise in normal life they used to live the normal man life alongside practicing for their fitness. From Nidana village it constituted the soldiers majorly from two communities first the "Kabirdasi Community (Dhanak in local language) and secondly the Jats.


They work to fill the void created due to law and system failure (both on call from public administration or if necessary then public interest but after observing the response of public administration) and/or to curb the unjustified activities of governments and rulers. Example to former was Muzaffarnagar Riots recently happened in September 2013, where a total failure of law and order machinery was observed. And fearing the huge public loss and peace disturbance a Khap Mahapanchayat was called, which was successful in its mission if "Gang Nahar" incident won't have happened. One may like to read in detailfrom this link on how and what happened.

Another big historical example of such action was the demolition of Kalanaur Riyasat under flagship of Gathwala Khap. It was achieved with the help of sister Khaps of Jats, which was more alike a Sarv-Khap Panchayat action but on initiative of Gathwala Khap. So this example is suitable to both levels i.e. Khap as well as Sarv-Khap.
Sarv-Khap Panchayat:
This panchayat is the supreme body of all gotra based Khaps throughout all castes like amalgamation of all gotra Khaps Panchayats of Jats only or Brahmins only or Gujjars only and so on.
Example:
During the Jat reservation movement held from 19
th
February to 12
th
March 2012, Khaps were called to mediate between movement's activists and Haryana government.
Jat Khaps put the concern to problems arising to other society people due to unexpectedly becoming longer agitation.
Though initially they also faced oppose from already infuriated community but finally settled the matter.
Another example is of their action and support to currently going Jat Movement for reservation in central jobs is now known to everyone.
Nature of issues heard and interests taken care in these establishments:
One major area of their action is to avoid could be clashes due to one community's action between that versus rest of communities as explained in example above. Another area of their interest is to raise and support the voice for common to community interest matters like the Jat reservation movement.
They never intervene or act at single village or Tapa level. They come into act when it comes on whole community. It should help
(in developing a clear understanding)
those among media who drag them even in street and family level dispute which is really disgusting and pity on their knowledge or if they have knowledge then pity on their ill will against Sarv-Khaps.
Closure note on discussion on Inheritance Group Panchayat:
Here I come to the end to description on Inheritance Group Panchayats. We will now talk on the second stream of this system i.e. Common Community Panchayats.
Common Community Panchayats:
Bhinn-Jatiya Bagad Panchayats:
This panchayats come into play whenever a dispute arrives between two families of different clans/castes/creeds residing in neighborhood or at far sights within village. Another purpose of these panchayats is to maintain the dialogue in good spirit between different clans/castes/creeds. Bagad
(Residential Welfare Association in urban tongue)
word carries with these Panchayats because two different clans might found living in same Bagad too.
Sarvjatiya Gram Bhaichara Panchayats:
Formulated for the same purpose as of "Bhinn-Jatiya Bagad Panchayats" but in broader view of whole village. These panchayats come into play when the matter becomes one clan versus the other or one caste versus the other. They also take care of each-others interests, harmony and sentiments.
Level of intervention of Sarvkhap at this level:
This is the level at which any level of Panchayat above it from hierarchy model can intervene keeping in view the seriousness of issue.
Example:
There is a village named
Gonsai Kheda in Jind district
. There happened a cold blood shed some 4 decades ago; the matter ignited due to ego of two Dhoong/Paanna level groups. The collision took such a severe mode that figure of deaths reached double digit and there seemed no end to the clash. Moreover neither of party was reaching/approaching upper level Khaps for settlement of issue neither was thinking of peace making. The clash was becoming unaffordable day by day and whole of the village seemed at verge of demolition. It captured the attention of Chaudhries of Sarv-Khap and they decided to intermediate the matter
(perhaps the request from local administration of district was also in place but not sure)
. Chaudharies known for fair justice and brotherhood were called, panchayat was organized in village, both side elders and mature people from agitated groups were called in Panchayatl, Panches entertained their grievances with unbiased approach and resolved the matter by face-to-face dialogues. This way a village reached to verge of complete vanishing was restored with peace and brotherhood again.
Inter-village Issues (Antar-Gram Mudde) Panchayat:
The main cause of these panchayats is to ensure better dialogue, relations and harmony with adjacent neighbor villages often called as
Guhaand
locally.
Possible issues heard in this level Panchayats:
They take care of smooth mobilization of each-others communities in border sharing fields, security of woman, animal and agricultural resources like water, flood and sanitation.
Example:
There happened to be one panchayat somewhere in September of 2000, between Nidana and Dhigana villages on matter of eve-teasing. Complaints were reported from both side youth about teasing girls of each other's village in city college, in local bus
(the common mean of transportation for both villages)
. And as per local norms girl from adjacent village is considered as daughter to both villages, so matter appeared as a severe issue for both villages. Then a panchayat was called in Nidana village to entertain the matter and nail the culprits. Meeting went successfully and eve-teasing going for days brought to end and accused were warned to face severe consequences if found guilty again. The interesting part of the panchayat was that the parents of all suspects from both villages were also called in meeting. But as none was able to present clear-cut evidences except raising fingers on each other so all on whom fingers raised were scolded in front of their parents and instructed the parents to take requisite measures to ensure a decent behavior by their lads on public places.
Bhinn Gotriya/Jatiya Bhaichara Tapa Panchayat:
Please see the "Tapa Panchayats and Bhinn Gotriya/Jatiya Bhaichara Tapa Panchayats" section above.
Bhinn Gotriya/Jatiya Doorasth Bhaichara Panchayat:
These kinds of meetings are mainly seen in marriage related matters. For matters of dowry, interests of divorcees or widowed women, their property and land right issues.
Sarvjatiya Khap Bhaichara Panchayat:
These kinds of Khaps seen in action when issue becomes matter of pride for two communities/castes or creeds a minimum at state level. This Panchayat and SarvKhap Panchayats under Inheritance lane are of equal status with only difference is that former is a common community panchayat where as the later is a Inheritance based Panchayat.
Sarvjaatiya Sarvkhap Maha-Panchayat:
It is the supreme most power/seat of the hierarchy model above. They come into action for common to all social matters related to dignity, prestige and pride. It concludes with merger of both "SarvKhap Panchayats" and "Sarvjatiya Khap Bhaichara Panchayat".
Example:
Though the history is full of events taken by this Maha-panchayat of which a bunch of examples
can be read from this page
. In present era as the biggest example they are fighting in Supreme Court against some false allegation put by an NGO named Shakti Vahini.
Impartial analysis of Shakti Vahini NGO can be read from this link.
.
Head Quarter of Sarv-Khap:
It has been the Shohrem village in Muzaffarnagar district of U.P., and four (second top in hierarchy) regional branches were at Haridwar, Thanesar (Kurukshetra), Rohtak and Delhi. Agra, Jind, Bharatpur, Meerut, Sonipat, Hansi have been the other major centers of Sarvkhap activities. Also each Khap has its own regional HQ in "Bada Gaon" of its periphery. "
Bada Gaon
" is usually conferred to the village having HQ of that Khap. For example traditional HQ of Gathwala Khap is the village "Ahulana" in district Sonipat of Haryana, village "Sisauli" in Muzaffarangar, U.P. is the HQ of Balyan Khap, village "Ramrai" in Jind district is the HQ of Naugama Khap, "Maham" city is the HQ of "Maham Chaubisi" Khap in Rohtak Haryana etc. etc.
For analysis:
Being fair in my research I don't see any such ages old system alive elsewhere on earth. If implemented in its core spirit this system still can over-rule any other equivalent human kind system available on earth and can yield best ever results for best humanity.
Auxiliary:
Names of around 91 Khaps: 1 अहलावत खाप, 2. काकोर खाप, 3. करनावल खाप 4. कालखन्दे (काळकंधे) खाप, 5. काकराणा खाप, 6. कालू (काळु) खाप, 7. कुण्डू खाप, 8. खड़ेरिया पाल, 9. खुटेला खाप, 10. गठवाला (मलिक) खाप, 11. गावर पाल 12. गुलिया (गुळिया) खाप, 13. गोधे पाल, 14. खोखर खाप, 15. इन्दौलिया (इन्दौळिया) पाल, 16. चाहर पाल, 17. चावुक तोमर पाल, 18. चौहान खाप, 19. चौगामा खाप 20. छपरौली खाप, 21. छौंकर (छोक्कर) पाल, 22. जाखड खाप, 23. जाटू खाप, 24. जुरैल (जुरैळ) खाप, 25. झाड़सा पालम 360 खाप, 26. ठकुरेला पाल, 27. ठेनुआ खाप 28. डबास खाप, 29. डागुर (डागर) खाप, 30. तक्षक खाप, 31. तंवर पाल, 32. तेवतिया पाल, 33. तेवतिया खाप, 34. दहिया खाप, 35. देश खाप 36. दोघट खाप, 37. नरवार पाल, 38. नेहरा खाप, 39. नौहवार खाप, 40. नैन पाल, 41. पलावत खाप, 42. पंवार खाप, 43. पञ्चहरे पाल, 44. पचास खाप, 45. पूनिया खाप, 46. फौगाट खाप, 47. बत्तीसा खाप, 48. बावल (बावळ) चौरासी खाप, 49. बाराबस्ती खाप, 50. बालियान (बालियाण) खाप, 51. बेनीवाल खाप, 52. बेरी पाल, 53. भरंगर पाल, 54. भराईच खाप 55. भगौर पाल, 56. भबीसा खाप, 57. भोखरहेड़ी खाप, 58. भैन्सवाल (भैंसवाळ) खाप, 59. मद्र खाप, 60. महम - चौबीस (चौबीसी) खाप, 61. मनमाड़ खाप, 62. राणा खाप 63. रावत पाल, 64. लाटियान (लाटियाण) खाप, 65. लौर खाप, 66. वरिक (वृक) खाप, 67. वधौतिया पाल, 68. वडानू (वडाणू) खाप, 69. वोहरा खाप, 70. श्योराण खाप, 71. स्योकंद खाप, 72. सिहाग पाल 73. सिकरवार पाल, 74. सांगवान पाल, 75. सरपा खाप, 76. सिनसिनवार खाप, 77. सोगरिया पाल, 78. सोलंकी खाप, 79. सर्वपाल खाप 80. सर्वगोत्रीय जाट खाप, 81. हंगा खाप, 82. हुड्डा खाप, 83. मान खाप, 84. दहिया खाप, 85. लाठर खाप, 86. नैन खाप, 87. सातरोळ खाप, 88. बिनैण खाप, 89. ढांडा खाप, 90. चौपड़ा खाप, 91. सहरावत खाप,
Note:
The topic is under continuous research so may be modified or added with more information in times to come. Also and equally thank you in advance for correcting me on any of the point found wrong or lacking the facts while reading it.
Those who may like to extend their interest in revealing the history of SarvKhap, please refer to "Khap Smriti" and "Haryana Yoddhey" sub-section under "e-Choupal" (Hindi Version) section directly accessible from main menu of homepage of this website.